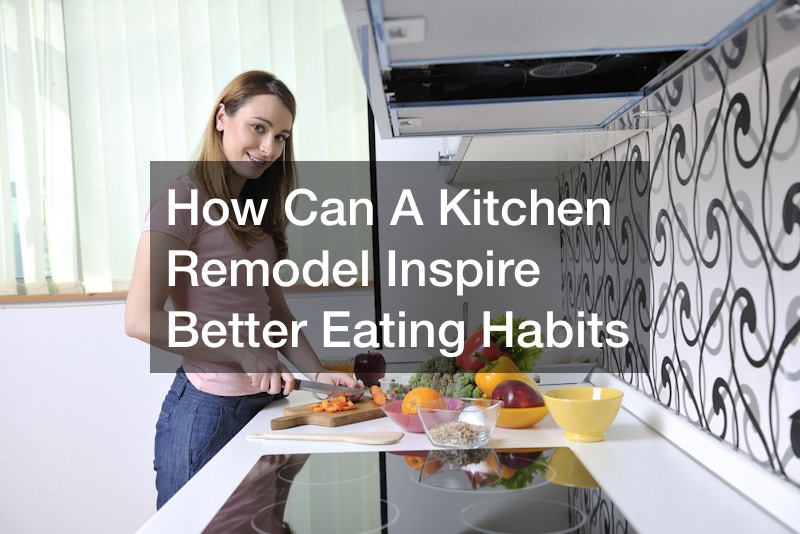 Home . Kitchen Renovation
How Can A Kitchen Remodel Inspire Better Eating Habits
Kitchens are one of the most often remodeled rooms in the house. Most homeowners get far more benefits than they bargained for with their kitchen remodel. What starts out as a simple remodeling consultation can end up helping you to eat better. You read that right. Kitchen remodeling can help you to eat better. Here is how making an appointment for a remodeling consultation can improve your diet.
Why Do We Eat Bad When We Don't Like Our Kitchen?
There are several reasons we pick up bad eating habits when we don't like our kitchen. First and most obvious, if you don't like your kitchen, you want to spend as little time as possible in the kitchen. Study after study has shown that cooking food at home is always healthier than ordering takeout or eating in a restaurant.
Cooking at home allows you to control the ingredients that go into the meal. It also allows you to control things like the type of fats that are added. However, when you just don't like your kitchen, grabbing takeout is easier and less stressful. Another reason people cite for not cooking more at home is the function of their kitchen.
Outdated appliances are not easy to work with. The layout of your kitchen can make it hard to prep meals. Of course, old worn countertops are a hygiene issue because it can be very difficult to fully clean old worn-out countertops. It can be hard to cook great meals when you are not happy with your kitchen. A remodeled kitchen can be a game changer for what you eat. Here are some things to consider when you set up your remodeling consultation that can ensure that you will be eating healthier in your new kitchen.
Remodel for Healthy Eating
When you meet with a remodeling consultation team, mention that you want to create a kitchen that will encourage healthy eating. Thoughtful design is essential in creating a space that encourages healthy eating. Intentional kitchen remodeling is essential if you want to have a space to prepare healthy meals.
During a remodeling consultation, you will be asked what your goals for the space are. The right team will help you achieve all your goals by implementing a design plan that includes accessible storage spaces, kitchen countertops that are made for food prep, and other features. The right design features will encourage you to cook healthy meals in your new kitchen.
According to Angi, about two thirds of homeowners that remodeled their kitchen report that they do feel like they are eating better since the remodel. When you have a highly functional kitchen that is also aesthetically pleasing, spending time in the kitchen cooking is a pleasure. Sharing your vision of your family gathering for healthy meals during the remodeling consultation will help the designer to focus on what is important to you.
Remodel for Convenient Access
The more "user-friendly" your kitchen is, the more you will use it. A convenient kitchen to use is one that has a good layout, the right fixtures, and features and that you are not afraid to use. A convenient kitchen means that everything that you need to prepare great meals is a few steps away.
For example, many homeowners are adding an island to their kitchen to make their kitchen more convenient. An island is a great place to prep food and keep food prep items nearby. An island with storage can create a central location for food prep that has all your pots and pans and cooking utensils. Of course, islands have large countertop space that makes it easy to organize everything you need to cook great Italian food.
Convenience is key to honing your cooking skills. If everything you need to cook is within easy access, before you know it, you will be creating restaurant quality (with healthier ingredients), Japanese food, German food, Korean food, and whatever else you want to experiment with. Convenience is a great motivator. Your new kitchen will become the hub for convenient meals.
Remodel with the Right Materials
A key factor you should consider during the remodeling consultation is your material options. The consultant will provide you with different options to achieve your goals. It is essential that you choose materials that you feel comfortable working with and that match your lifestyle.
For example, a kitchen countertop made of marble is a lovely addition to any kitchen. A marble countertop can add a touch of luxury to your kitchen. However, of the natural stone countertops, marble requires the most maintenance and care. It is not as "hard" as other natural choices like granite. It can be chipped and damaged.
Material choices can make a difference in how you use your kitchen. If cooking and enjoying healthy meals in your kitchen are a priority, you want to choose materials that are durable. You don't want to choose materials that are high maintenance because high maintenance worries can prevent you from cooking and will keep that Chinese food delivery number on speed dial. The goal is to create a kitchen that you feel completely comfortable cooking in.
Remodel for Your Lifestyle
Is your kitchen the hub of your home? Do you have kids that love to sit at the counter and do their homework? Do you want a space to sit and enjoy a cup of coffee in the morning? When you meet with the remodeling consultation team, it is important that you express what your kitchen area means to your family. Designing your kitchen around your lifestyle will ensure that you get everything you want and more.
Of course, the primary function of any kitchen is to create a space where meals are prepared. A kitchen should have plenty of storage space to house all the equipment and supplies that are needed to create meals. However, kitchens are typically multi-use spaces where a lot more than cooking gets done. It is important that consideration is given to what additional activities your kitchen needs to provide space for.
The right team can create a kitchen space that incorporates everything you and your family need to accommodate your specific lifestyle. With the right support, your kitchen can do so much more than be a space to prepare meals. It can become the heart of your home.
Remodel with Budget In Mind
Everyone has a budget for their kitchen remodel. It is important that you work closely with the remodeling consultation team to formulate a budget. There are some things during a kitchen remodeling project that are "musts" and some things that are "wants." For example, kitchen plumbing repair is a must, and a wine fridge is a want.
You may have to make some compromises to stay within your budget. It is essential that all the must-dos are listed first and accounted for in your budget, then you can work on adding the wants. Most kitchen remodeling contractors will work within your budget and find ways for you to get the must haves and the wants, but the final decisions are left up to you.
If you need window replacements for your kitchen that decision should trump your desire for a custom range hood. Putting your money where it matters the most will ensure that your kitchen not only looks great but delivers the function you desire. There are some places you do want to spend a little more because it will provide a higher lifestyle return and some savings in the long run.
Remodel With Energy Efficiency In Mind
We talked about window replacement in the kitchen briefly and now we will expand on that. Window replacement is a great way to upgrade the look of your kitchen and it is also in line with saving costs. New windows help you save energy. However, windows are not the only way you can save energy in the kitchen.
You are going to want to cook a lot in your new kitchen. It is a good idea during your remodeling consultation that you ask about energy-saving appliances for your kitchen. Energy-saving appliances can help to reduce operating costs, but they are not the only way you can save energy in the kitchen. There are other factors that will determine how energy efficient your kitchen is.
Where windows are located plays a role in how energy efficient your kitchen is. What type of window dressing you use plays a role; ceiling fans can help with efficiency. Lighting design and layout is another energy consideration. You will pay a little more for energy-efficient appliances up front, but it will save money. The same is true of lighting and other factors. You may have to pay a little more out of pocket, but it can be money well spent because of the return on your investment.
Remodel for the Future
Times change, but your kitchen should be able to stand the test of time. Who would have thought even a decade ago that you would be able to order food online and have it delivered right to your front door? Who would have guessed that other people could shop for your groceries and deliver them? Yet here we are. Times do change but your kitchen style should be able to be something you love ten years from now as much as you do today.
During your remodeling consultation, ask the consultant about "classic" designs that hold up well. Don't base your kitchen remodeling plan on trends. Think of it this way, at one point, avocado green and pink were all the rage in kitchen designs. That trend faded along with shag rugs and dropped ceilings. The point is, to remodel your kitchen for today and for the future. Don't get caught up in the trends; they will come and go.
Classic designs and features are a better investment. Classic designs and features can give you the kitchen that you want and need without overly customizing the space and making your home impossible to resell. You can't go wrong if you focus on classic kitchen design and style.
Remodel With The Environment In Mind
We talked about choosing the right materials, but we did not talk about environmentally friendly materials. There are kitchen remodeling materials that are eco-friendly options. For example, a bamboo floor is an excellent option for the kitchen, and bamboo is a highly renewable natural resource. You can make your kitchen a "green" kitchen by choosing materials that are environmentally friendly.
You may think that environmentally friendly materials have little to do with healthy eating, but that is not true. If you want to make lifestyle changes like eating healthier, paying more attention to the environment is a great sedge way to healthier living. Choosing healthier food options is easier when you are in the right mindset.
When you feel good about the material choices you make for your kitchen, that good feeling will spill over and help you to make good food choices. Many homeowners find that when they start thinking about the environment, it leads them to start thinking about food processing and how that affects the environment. Ultimately, it leads to cooking more at home and making food choices that are in line with healthy living.
Making changes to your kitchen is not only good for the value of your home, but it is good for your lifestyle and your diet. You will be amazed by the changes you will make once your kitchen is remodeled. Arrange a remodeling consultation today with a team that will ensure your kitchen goals are achieved. Call today to set up an appointment and get ready for some big welcome changes.
You may also like