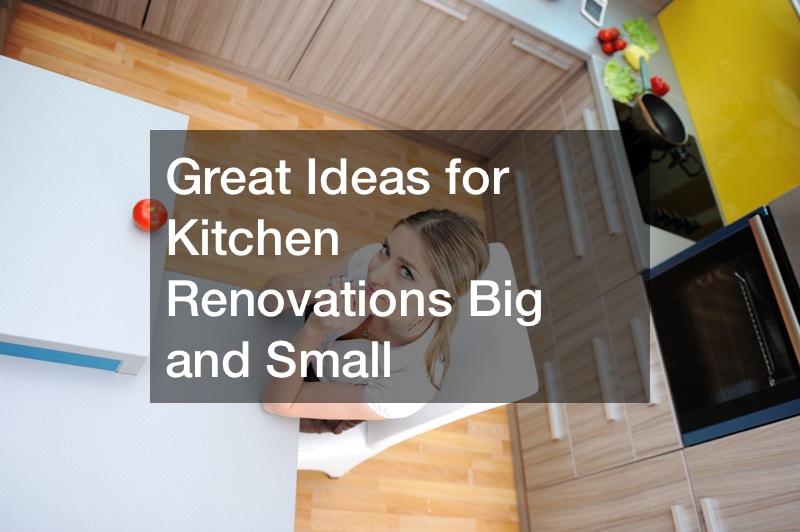 Home
Great Ideas for Kitchen Renovations Big and Small
The kitchen is one of the busiest places in a home, needed and accessible to all family members all day and night. As such, it is also a place that requires careful planning, functionality, and care. From time to time, a kitchen renovation becomes necessary to keep the space aesthetically pleasing while maintaining functionality. Kitchen remodeling projects can be overwhelming, but here are a few ideas that can simplify your renovations big and small.
Kitchen Indoor Renovation Ideas
Paint Your Walls and Cabinets
If you're looking to spruce up your space, then painting is one of the best possible solutions for renovations big and small. Regardless of your budget, picking high-quality paint that will provide durability is advisable. If your budget is tight, buy good paint and do the project yourself without hiring a professional painter. But first, you must research well to avoid unnecessary mistakes.
Pick your paint colors based on your style and color scheme. Light colors like white and cream brighten the space and make it look larger than it is. You can add bits of earthy colors to bring an excellent contrast and a touch of class. Ensure you properly prep your walls by wiping them down, sealing cracks, and applying an undercoat before your finishing color.
Show off Your Style and Personality with Your Backsplash
Think of your backsplash as a canvas that allows you to express your personality and style. You can go for bold colors that sharply contrast your uniformly painted cabinets. Subway tiles are a go-to option for renovations, big and small. Alternatively, you can use tiny mosaic patterns that come off prettier, but you will find their grout lines more challenging to clean.
The materials used in the backsplash depend on your preference and budget. You can get backsplash made from metal, mosaic, embossed ceramics, glass, and other tile and non-tile options. You must balance between picking something that is your taste and widely appealing. You may need to sell your house eventually, and it will be easier if the features are widely attractive.
Use Durable, Low-maintenance Countertops
Today's market has many countertop options, such as marble, granite, stainless steel, concrete, wood, etc. Ensure you research the pros and cons of each category when embarking on renovations big and small. Ask about the maintenance, durability, water resistance, and color variety. You want a countertop that will not require regular cleaning, is durable, and has many color options that match your vision.
In the past, granite and clay tile were trendy, but recently, other materials like quartz have overtaken them in demand. The National Kitchen and Bath Association stated that quartz is in higher demand than all other countertop materials. It may be because quartz is stain and scratch resistant, chip-proof, and doesn't need sealing.
Go for Natural-looking Flooring
There's no doubt that replacing flooring is costly, and one of the best ways to enjoy the investment for longer is to pick a timeless theme. Wood-looking flooring always stays in style, whether made of natural hardwood floor or other materials.
Nowadays, luxury vinyl or laminate options look like wood but are low maintenance, durable, softer, and more forgiving. Clients can get contractors for complete LVP flooring installation for a classier look. These luxury vinyl planks bear the same benefits as other luxury vinyl floors.
Do a Complete Gut-out Job
If there's a lot you want to change about your space, you can tear down your kitchen to the studs. The project will require the services of a renovation contractor, among other professionals we will discuss below. However, a complete kitchen remodel will allow you to repair many things to the details.
It will allow you to change locations and sizes easily by demolishing, moving, or adding walls. It will give you a clear image of the electrical, plumbing, and heating system, which you will then determine whether you want to repair. You can also do a completely new job with insulation by using non-allergenic spray foam insulation- this will save energy costs. Note that demolition and clearing out older materials will cost you more.
How to Spruce up an Outdoor or Patio Kitchen
Replace Your Windows
One way to elevate your outdoor kitchen during renovations big and small, is to replace your current windows. You need a window replacement if your windows are not energy efficient. While replacement allows you to explore new designs, the project is unnecessary if your windows are working just right or you plan to downgrade to a lower quality than you currently have.
A kitchen remodeling contractor can inform you of the ideal window options for your space. These include energy-efficient windows with double pane technology meant to keep the cold air out during winter and cold air inside during summer. With these, you can have lovely-looking windows without compromising on your energy cost savings.
Consider Beautiful Yet Functional Furniture
Outdoor furniture is so much different than indoor furniture. Choose durable materials like powder-coated steel or aluminum if you want your outdoor furniture to look good for longer. These can effectively withstand extreme weather throughout the year. Have a functional layout that allows you to host multiple guests simultaneously, including smaller groups during the summers.
Use Greenery to Decorate the Space
You can accentuate the features of your outdoor kitchen using greenery and flowers. Outdoor greenery does not only improve aesthetics but the overall air quality. Colorful pots well-placed around the space add more character and intrigue. Pick out flowers and foliage that are easy to maintain and withstand the current season.
Renovate Your Patio
The patio compliments your outdoor kitchen providing more room for sitting and entertainment. If you don't have money to embark on patio construction, begin DIY projects to refresh the space. Adding a huge rug combines all the furniture and is a clever way to introduce a pop of color. It will bring a significant change without requiring you to paint or stain a deck.
Remember to keep things simple; you may need to bring all the decor into the house once the colder seasons catch on. Determine your desired color scheme and dress up the furniture with throw pillows and decorative blankets that align with your vision. Decor prices are integral in all renovations big and small; add a centerpiece on top of the table, some fresh flowers, creative privacy solutions, and affordable lighting options.
Services You Need To Hire For a Kitchen Renovation
Kitchen Remodeler
You need to hire several professionals when you begin renovations big and small. If the project is in phases, you need to engage each independently. However, things are easier when you renovate your kitchen all at once; this way, you can hire a kitchen remodeling contractor who provides comprehensive services. They will handle all your needs, from flooring to backsplash, lighting, and countertops.
A kitchen remodeler has a team of designers and contractors who work together on your project. If they do not have all the necessary professionals, they will subcontract but at no additional cost to you. These services relieve you of the standard pressure associated with renovations big and small.
Electrician
If you choose simple or major adjustments like changing your light fixtures or electrical system, you will need a local electrician. The electrician can install recessed ceiling fixtures, under-cabinet lighting, and pendant or ceiling fixtures. Recessed ceiling fixtures are ideal for open floor spaces for ambient lighting in the entertaining stations where people sit. While pendant lights are suitable for the kitchen island or sinks as they diffuse lights without shadowing.
Flooring Contractor
A flooring contractor will help you choose the best floor options based on your needs, taste, and budget. They will present options like concrete, ceramic tile, natural floor, cork, marble, etc. The variety ensures clients get the best-suited options for renovations big and small. The contractor will remove the old flooring and install a new one. Most provide maintenance services to deal with wear and tear, such as polishing services for hardwood.
Designer
Depending on your budget, you may prefer to hire a designer to develop all the good ideas for your space. Designers are updated on current trends, making it easy to recommend modern, functional suggestions. They are also very creative and can help you get out of your comfort zone to try new things like unique furniture, such as an Amish dining table. Your designer will work with your kitchen remodeler to bring the vision into reality-they will supervise to ensure the design is captured accurately.
Plumber
If you gut out your kitchen to the studs or shift the working stations, you will likely need a plumber to redo the plumbing work. Your chosen plumber will inspect the layout of the existing pipes and recommend better ways to make the plumbing system functional. If you're considering removing the walls to create a more open concept, you will need a plumber to redesign the drain and stack system.
Professional Painter
As mentioned, renovations big and small, often need some form of paintwork. It is one of the easiest ways to refresh a space whether you're on a budget or not. A professional painter is handy as most homeowners find painting intimidating or time consulting. A painting contractor will keep things tidy, leaving no damage or stains on your floors or countertops.
Benefits of Kitchen Renovations
More Functionality and Space
Renovations big and small, allow you to maximize your space yet keep its functionality. By now, you know what should go where making the decision-making straightforward. Such projects will enable you to change layouts from closed to open spaces that create more room for cooking. They also allow you to make your kitchen a beautiful place to hang out, besides the common purpose of preparing meals.
Increase your Comfort
Most kitchens are near the living areas where guests and other family members hang out. Renovating your kitchen allows you to install an air purification system to suck out all the odors from meal preparation. It also lets you put up new windows that optimize air quality and natural light. Bringing in more natural light provides a good view of the outdoors while cooking and has been shown to improve mental health.
Improves Safety
Kitchen renovations big and small, provide a unique opportunity to improve the safety of your family. Take advantage of this opportunity to add features like anti-slip flooring, better lighting in the once-darker areas, and a convenient place to place your fire extinguisher. You may also put in a range hood if you do not have one, as they are essential to sucking out gasses like nitrogen dioxide commonly emitted by different appliances.
Improves Storage
During your kitchen renovation, you can add new storage to maximize space. Many affordable options include under-counter island cabinets and pull-outs that fit under the sink. You can shop for other storage solutions from your local store, such as drawer organizers that organize cutlery.
Higher Energy Efficiency
Besides window replacements mentioned above, there are many other ways to make your kitchen more energy efficient. You can switch your lighting to energy-saving LED lights with about 70% less consumption than traditional lighting. Leverage your furniture assembly skills to create smaller intimate spaces where you will use more light instead of lighting up the entire kitchen, which will consume more electricity.
Also, embrace other clever techniques like choosing a low-flow faucet to reduce water consumption. If you want to keep the hot water in your taps, consider a tankless hot water system to heat the water on demand.
Renovating your kitchen is one of the more costly projects you may undertake in your home. Yet, it is also among the most rewarding as it improves functionality, comfort, aesthetics, and much more. Renovations big and small, need proper planning; a few moments of planning can save you weeks of work and prevent the need to repeat projects because of avoidable mistakes. The tips and ideas above will help you make informed choices for your next kitchen remodeling project.
You may also like